Wedding season is here folks.
June is the favorite month for all those to-be brides for their wedding.Every bride must have planned this through for her big day.And what should you do when the time dawns upon you to attend a bridal shower or a Bachelorette party or the wedding itself?
A perfect gift for the perfect couple would make the day even blissful. Are you worried which gift to be given to the groom and the bride?What gifts should be given during a bridal shower and what to give for wedding?Do you have problems when you want to express your love for the couple and suddenly budget comes in your way? Then worry no more and keep all your dilemmas away because we from topgifter.com will assist you in solving all issues.
Anywhere across the world,whichever custom or tradition it is;the union of two beings is considered the most beautiful one.Its necessary for us to recognize that bond and make their day special as it should be.
Naturally you should be careful in choosing gifts as that would mean a great deal for the people whose wedding you are attending.
Let me start with the Engagement gift ideas
Now if the party has been announced and the couple are your friends and if the invitation doesn't have "NO GIFTS" tag;then it is obligatory for you to get a gift for the couple.
Now by the time engagement party has been announced;the bride and groom must not 
have registered in the wedding gifts list yet.So take this chance to get a nice,simple yet worthy gift for him&her
Here are few suggestions for engagement gifts:
1)Let me start with cute gifts for the couple.Giving an ornament with engagement day and their names printed on it is a good sign and a better keepsake.It comes only for 12.99$ and you can choose the hair color of both male and female!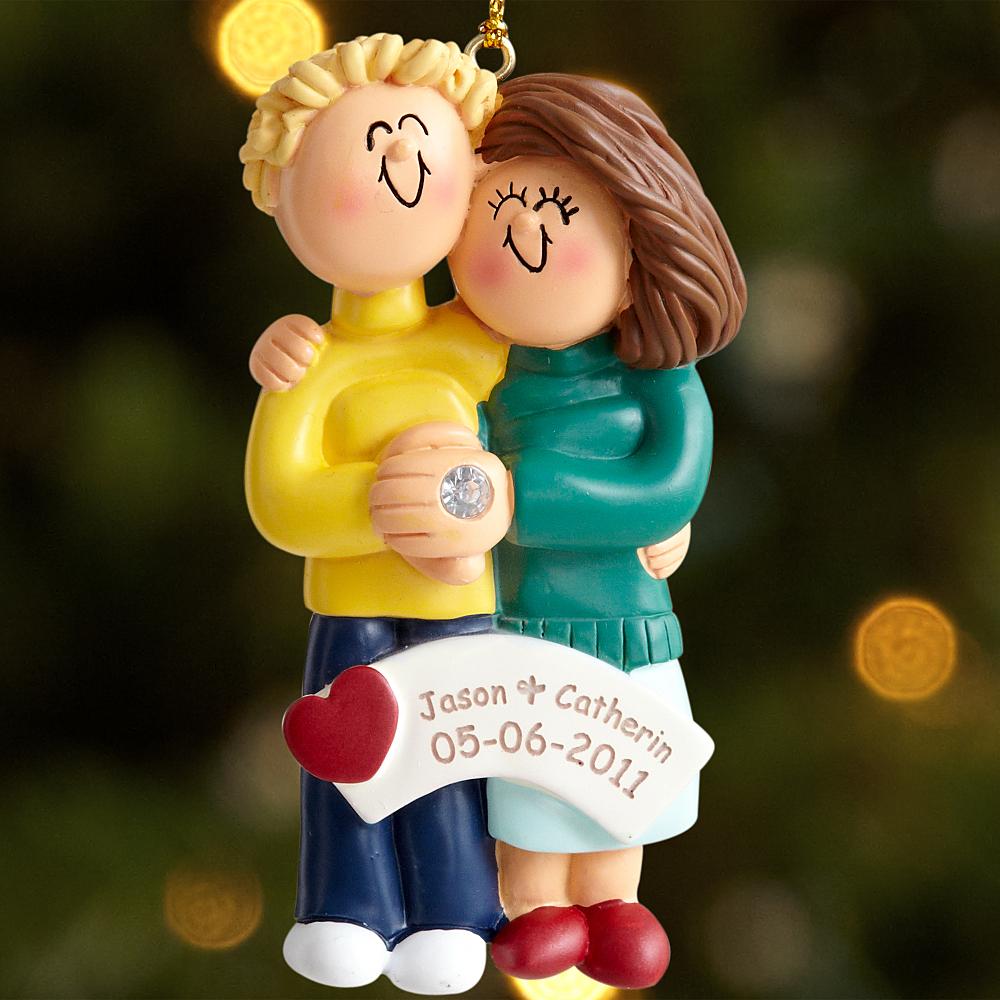 Ain't it cute?Definitely yes!If you are obliged to give this gift,you can get its details here
2)Instead of making difficult decisions and wondering what to give,a champagne bottle and chocolate truffles will always make a better option for an Engagement party.Best baskets from Wine Globe are available for you to get them in lower budget and greater satisfaction.
for similar gift baskets you can click here
3)Also gifting the couple with bar ware would be a good idea inferring they haven't registered anything in departmental stores yet.We present you this set of 6 beautiful Stolze bar ware shot glass-size 3″,width-1.75,Oz:2
To get similar gifts go here
4) I would like to present this personalized canvas featuring two bears snuggling and their innocent love,and a tree aside with a love shape inside which the names of the couple can be written,9 letters each.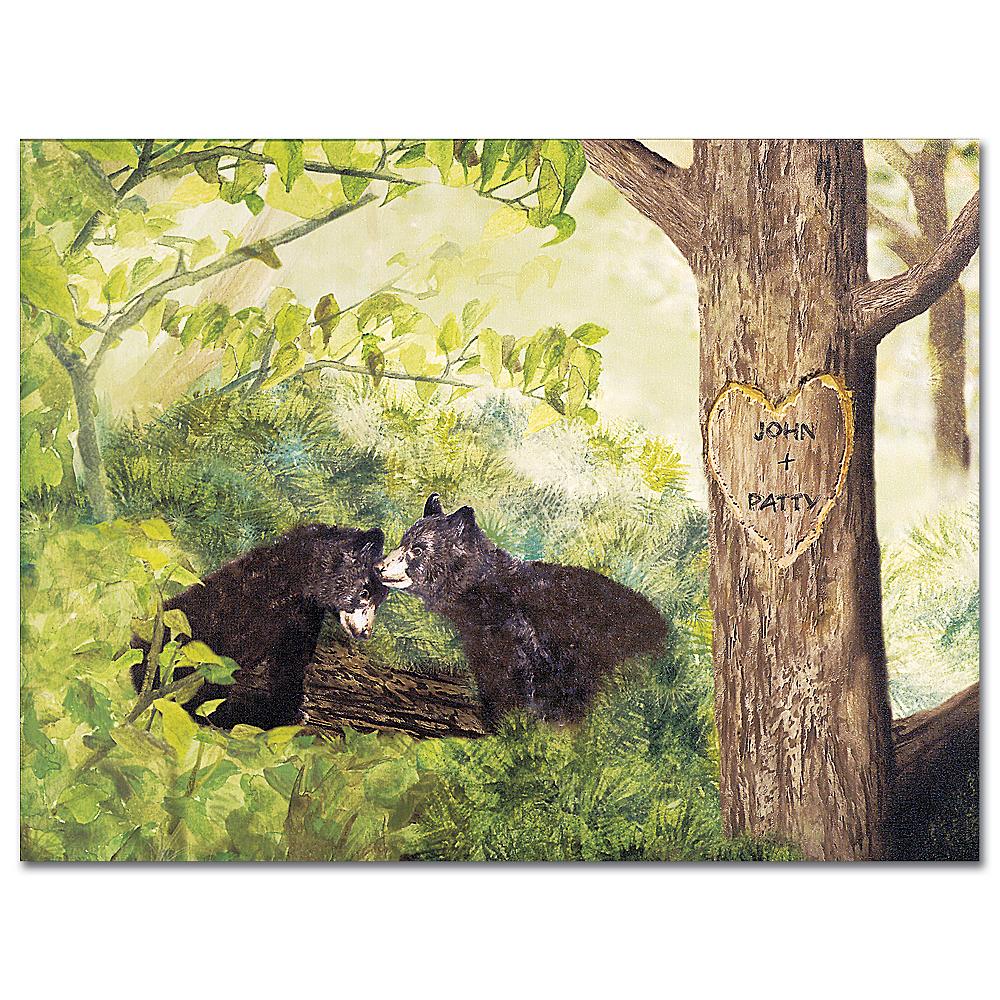 5) Now you can always give love birds pendant to the couple with their birthstone and name on it joined by love birds in gold or silver and the words "love birds" are engraved in reverse.its a rhodium plated pendant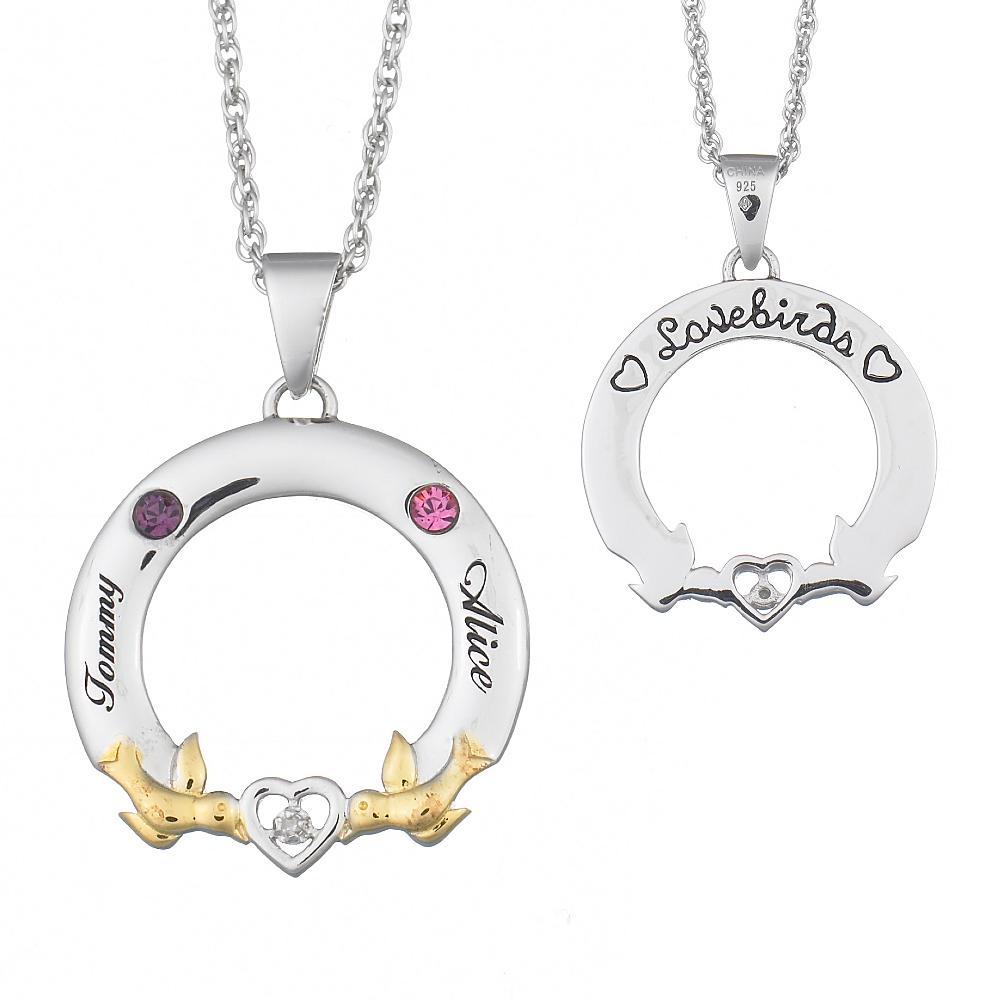 ——————————————————————————————-
BRIDAL SHOWER GIFT ETIQUETTE
Here i am presenting 11 gift ideas which almost includes everything that can be given in a bridal shower.
If you find invitation for a bridal shower and not sure what to get the bride or the couple; this is the right stop for you for gift ideas. I would recommend you get from the bridal registry list. Well, if its costlier for you to give something on that day from the registry; you share the cost of the gift with friends, because its obvious that you can't put all the budget for Bridal Shower itself when there's wedding coming over.
Few gifts here I mentioned will make sense to be given on a bridal shower if you are not going for a gift registry or thinking of saving the idea of gift registry for the wedding.
Coffee Maker
Give this 5 cup coffee maker to the couple and they will remember you for this beautiful and sensible gift.
Get something for kitchen. I present you this cake plate with a dome and a server. It is highly unlikely that the couple must have registered all these in a store. Also belonging to the same category is the Non Stick Fluted Spring Pan, comes with 6 interchangeable imprinted bases.
An all purpose bowl.
Another gift for the bride, this has quite remarkable usage in the dining room. Less than 50$ this will come in budget and is of great use. Both parties will be satisfied in fact.
Let's talk about personalized gifts now.
To start with, I give you Mr. & Mrs. BlackMug Set. Comes with personalization of the family name and their wedding date(remember, if the bride doesn't change her surname then this would be useless or rather it won't grab her good interest. So its best to know if she is changing her surname or not before ordering the gift)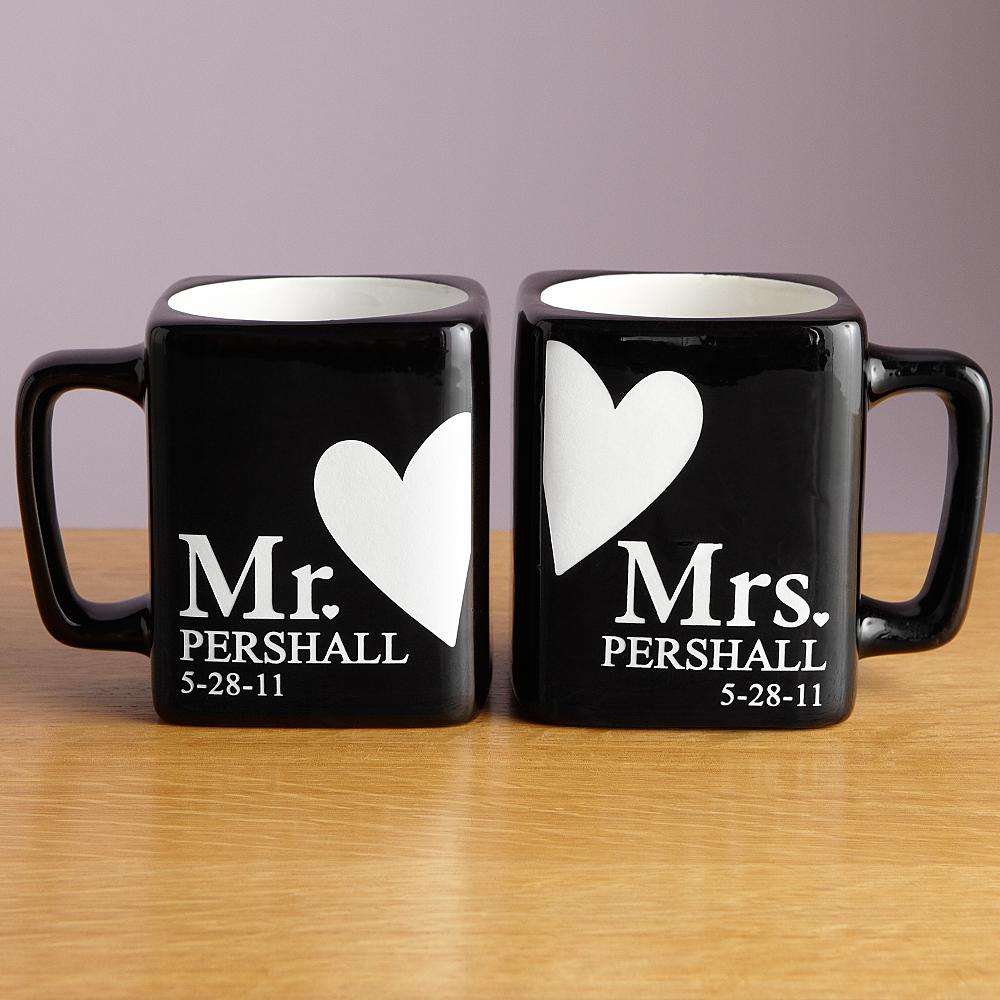 Next comes the champagne flutes
The couple will surely love this romantic gift. This can be personalized, which is the advantage of these champagne flutes and along with the wedding date; this surely will become a lovely keepsake gift for the years to come.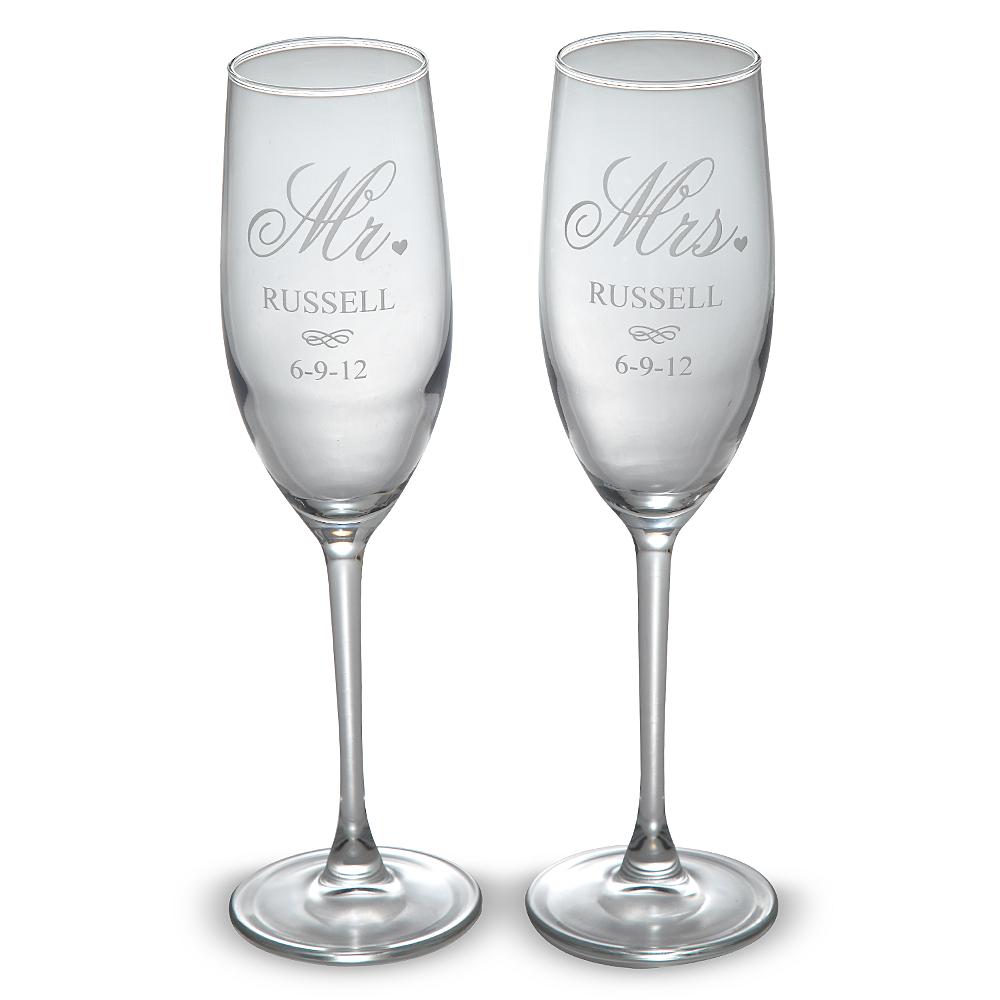 Now, this is for the couple who loves to cook-newlywed cooking kit.
It comes with a cook book, personalized aprons which can be embroidered with the names up to 12 characters.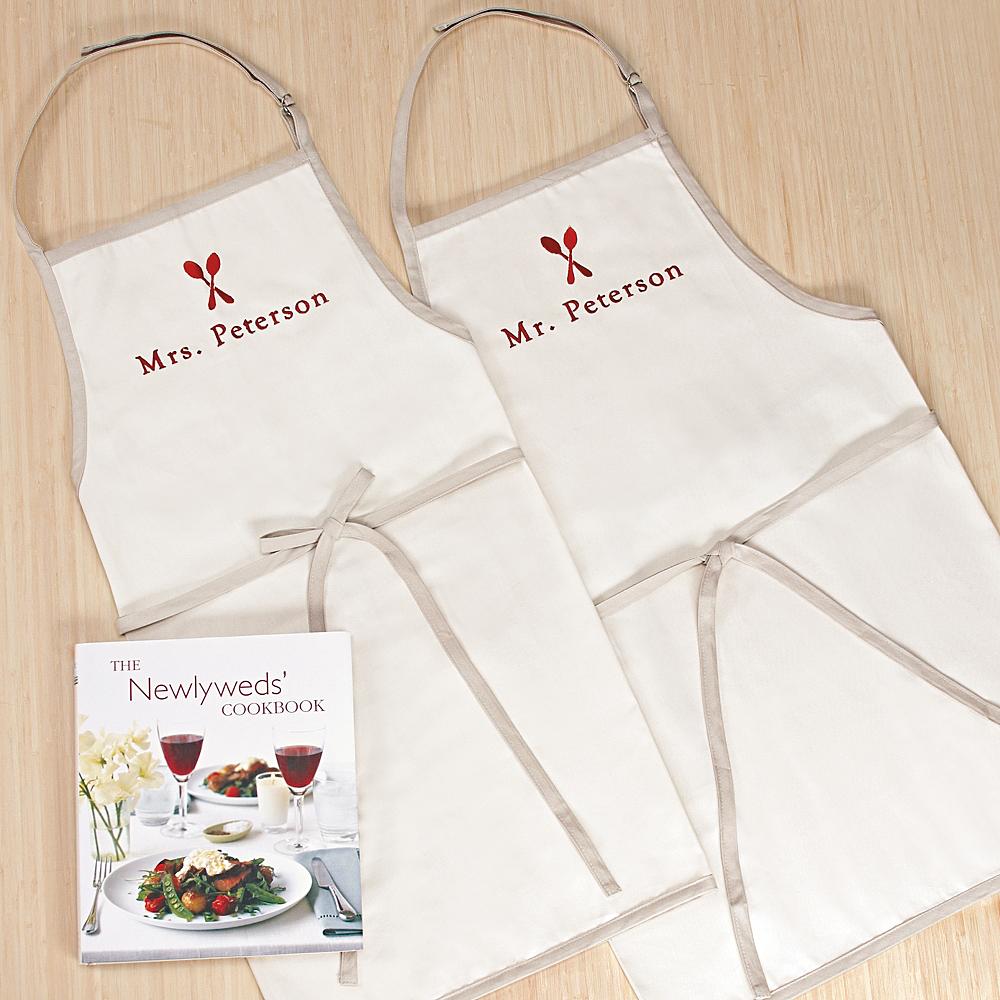 This personalized gift is for bedroom. Mr.& Mrs. Pillow case set. Made in USA of cotton/polyester and can be personalized with their first names up to 10 characters, it's a lovely way to display their new bond. Find more similar gifts here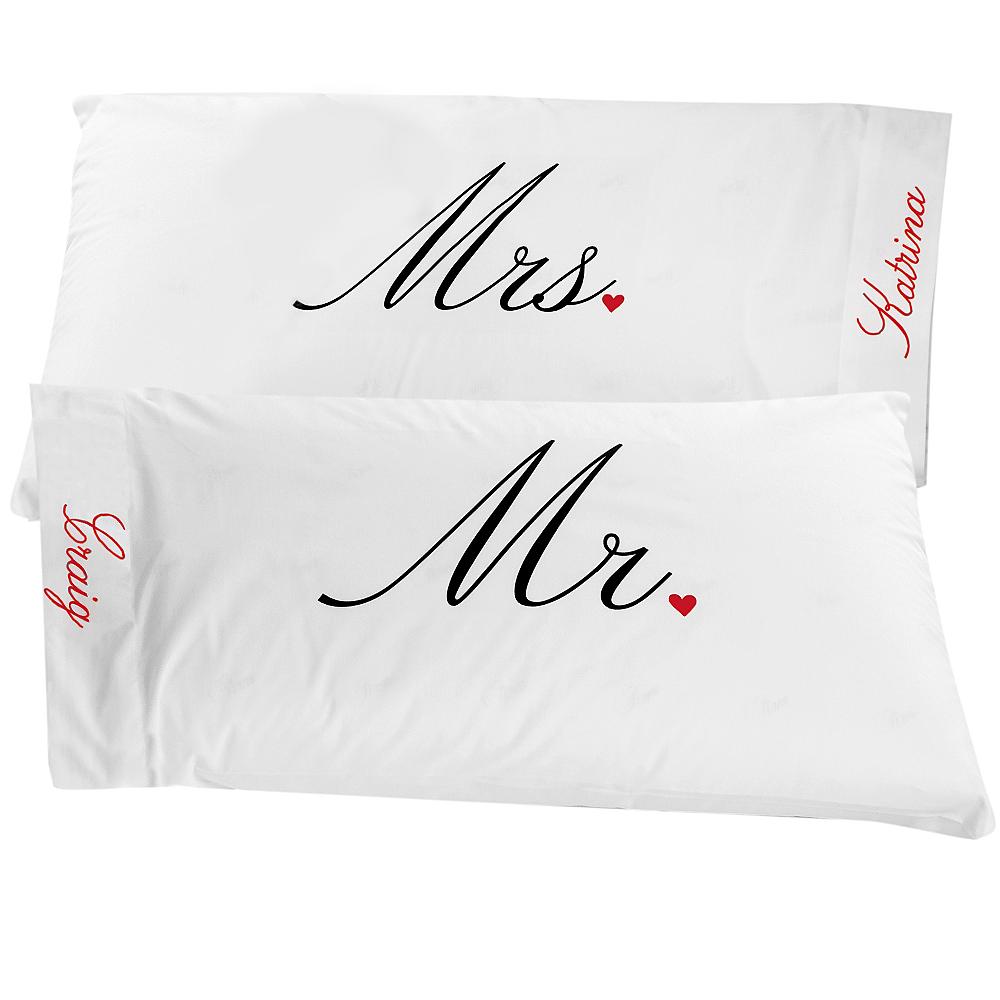 Thinking enough of personalized gifts? Fine then; lets move on to this cozy Cubist Wine Set.
This set holds 4 wooden coasters and 4 stem less wine glasses. Very entertaining and the newlyweds will definitely like this.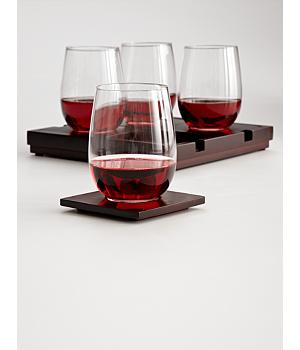 Bath towels by Raulph Lauren-a set of 3 and comes within 50$ in different colors. Inquire the couple about their preferable color and get these for them.
Get the couple the unique gift. Candles.
Cherry blossom candle set. It's a two wick unscented cherry blossom tree with a ceramic tray. As it burns down, the candle glows from outside.80 hours of life time for this beautiful over sized candle.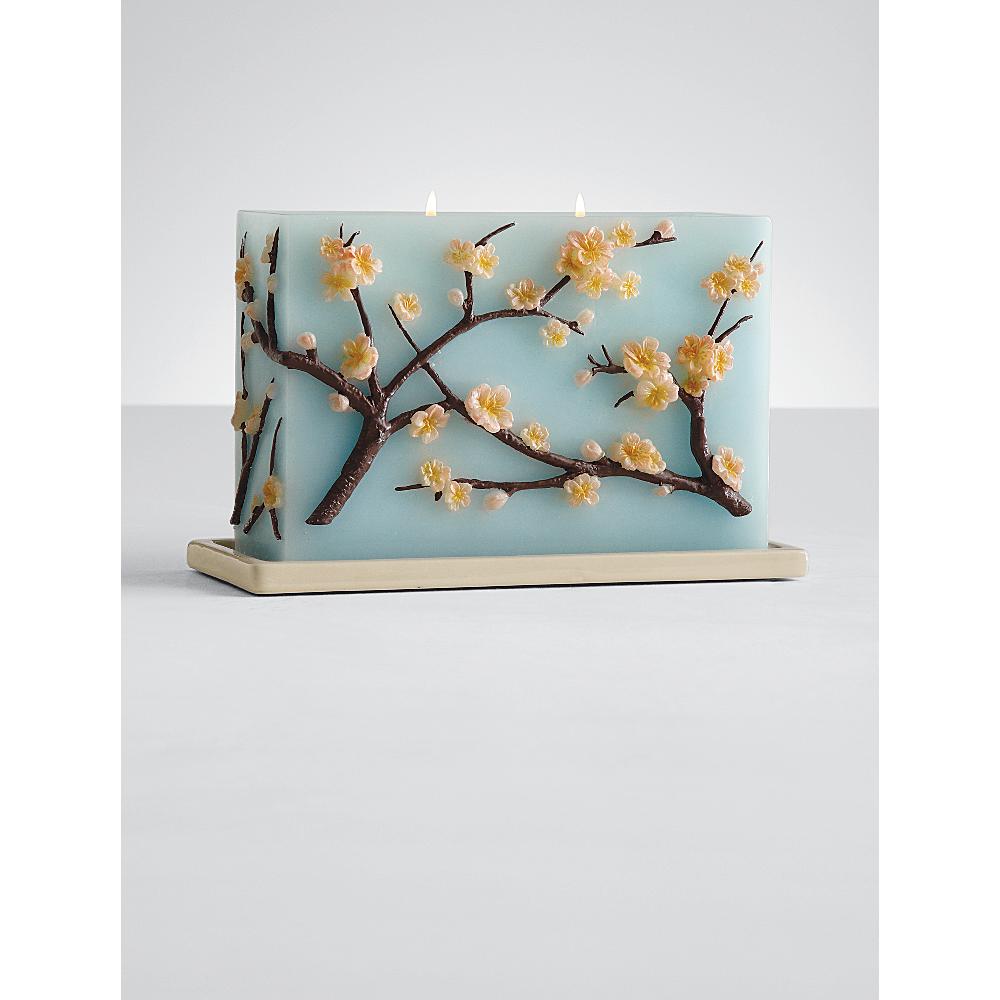 get it here
And if the couple likes scented candles; we have them too.
This is a scented candle and a holder from Lauren by Ralph Lauren. Its lid has tortoise shell patterned tiles and has the soft fragrance of rose.
And if the couple is more into simple things; this is the candle set you can give.
How's it? Like it? Let us know what you think and like us on facebook
WEDDING  GIFTS  ETIQUETTE
Trivia for Wedding Gifts (read somewhere in the net and thought you guys should know)
#Its better to give cash as a Wedding gift. Also tickets for reservations in a restaurant or honeymoon hotel suite will serve as good Wedding gifts.
# When you are going for a wedding ; you need not carry the gift and simultaneously give the pain of carrying the gift and maintaining it to the recipients too…instead you can mail them so that they can receive it and take a good look at it after wedding when there's no tension.
# Since wedding gifts can be given within a year of marriage….you can also send the couple their gift after returning from their honeymoon and getting settled with new home.
Lets start the Wedding present tour.
Firstly, to start with; I suggest you give one of these photo canvases to the newly wedded couple. You can upload the best photo from their wedding day and these people will do wonders with it. Its a sweet memory of the day one would want to preserve. If you are not giving items from the registry as gifts then these are best options.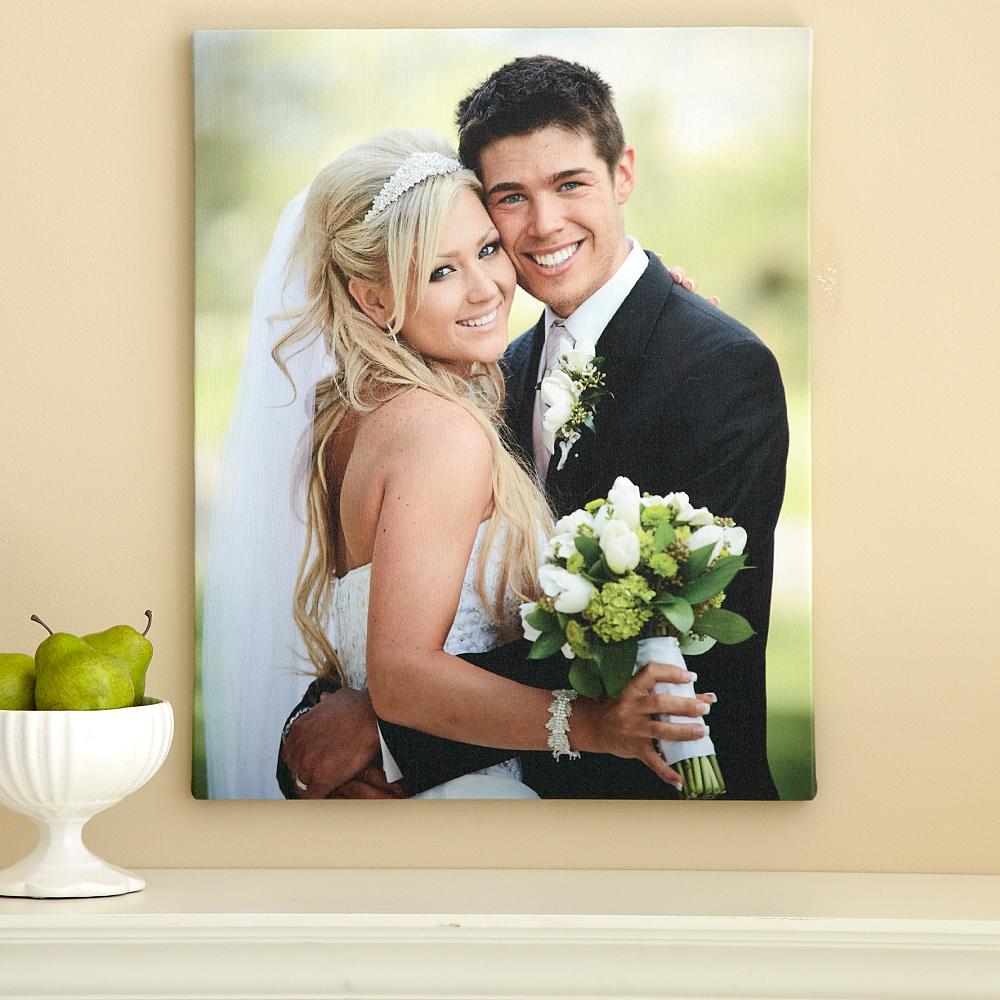 Also is this curved glass inscribed wedding invitation. Comes with a photo of the couple along with gold/silver frame and the invitation for their wedding inscribed on a glass; it serves as a keepsake for the rest of life and cherishes the memories of Wedding day. 
With the above gifts hitting the charts, giving a photo frame personalized with the wedding vows is a good idea. Engraved on the wooden frame are the vows taken by the couple along with their names on it; this personalized frame with a photo from the wedding day will fit to purpose of a Wedding Gift.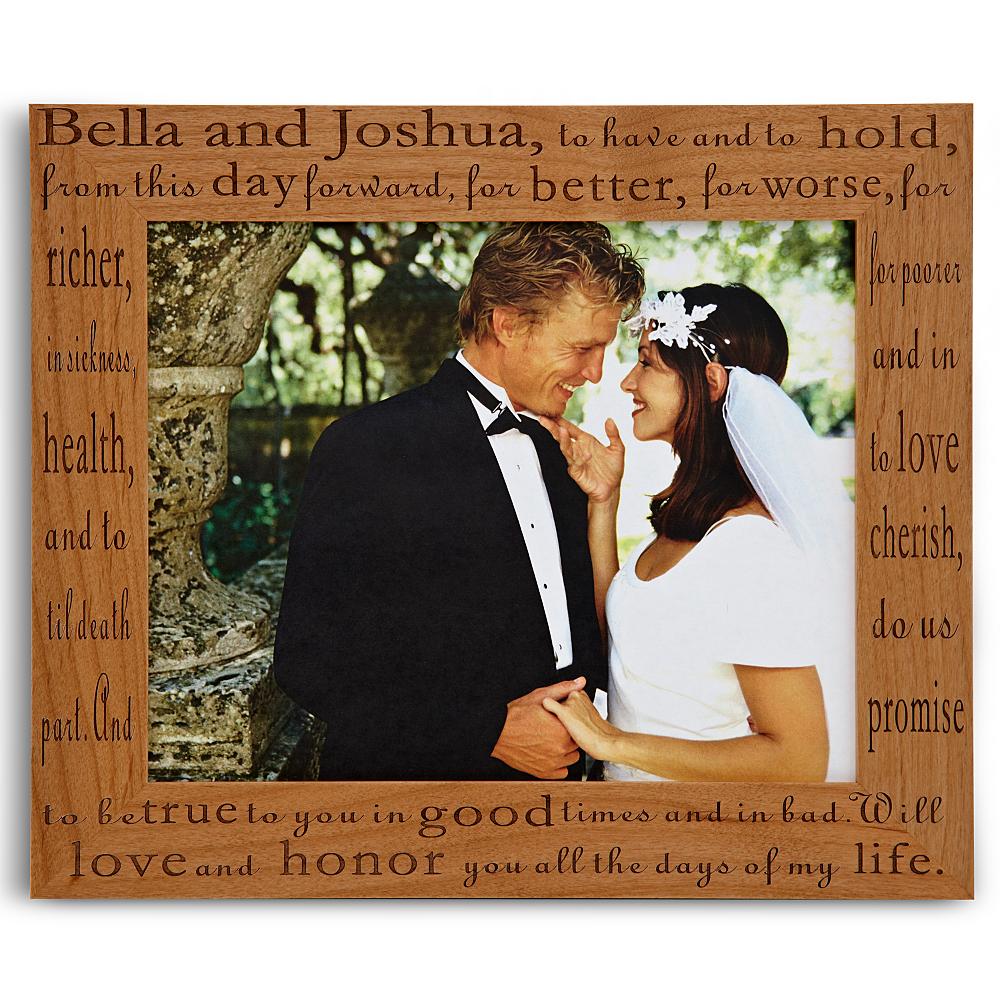 With many things happening on wedding day, so many friends attending the holy union; the couple would want to capture all those moments of that day. They would love to have one of these wall galleries for photos as a reminder of their day. Nine photos can be displayed with black frame and removable white mats; they hang together with a nickel plated brass bar with a series of preset hooks.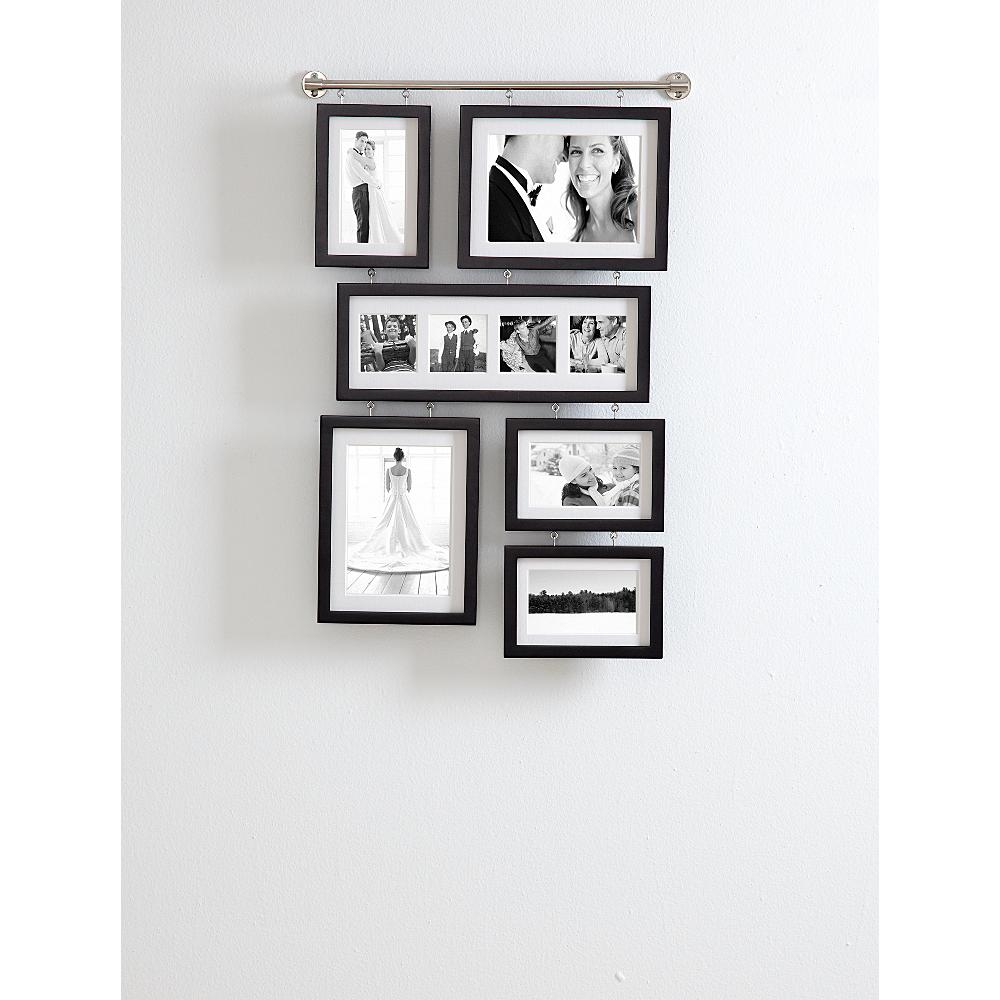 Wine for wedding gift:Surely for the celebration of their wedding, this wedding gift basket with hand-picked favorites of the couple will be a great idea. Comes with wine bottle and gourmet food; it is a good choice to extend best wishes for the wedding. 
As a part of kitchen ware for the new home; this glass pitcher with white lid is a must to have for dining table. A daily usable thing which can do just fine in attracting people with its simplicity; this one shall be cordially received by the recipients. 
A Set of  Crystal Bowls and Stainless Tray.
Sure to serve cookies or nuts, these crystal bowls are needed in any kitchen and there's a steel tray too accompany them. Gift this to the newly wedded couple for their home needs one of these.
Known the bride/groom for a lot of time and been his/her friend? Here's a gift you can give for your friend on the account of his/her wedding-five star terry robe!
Gives you a feeling of the bath robe from the five star hotels, which can also be personalized up to 10 characters, this is 100% Turkish cotton and has two pockets and a self tie belt.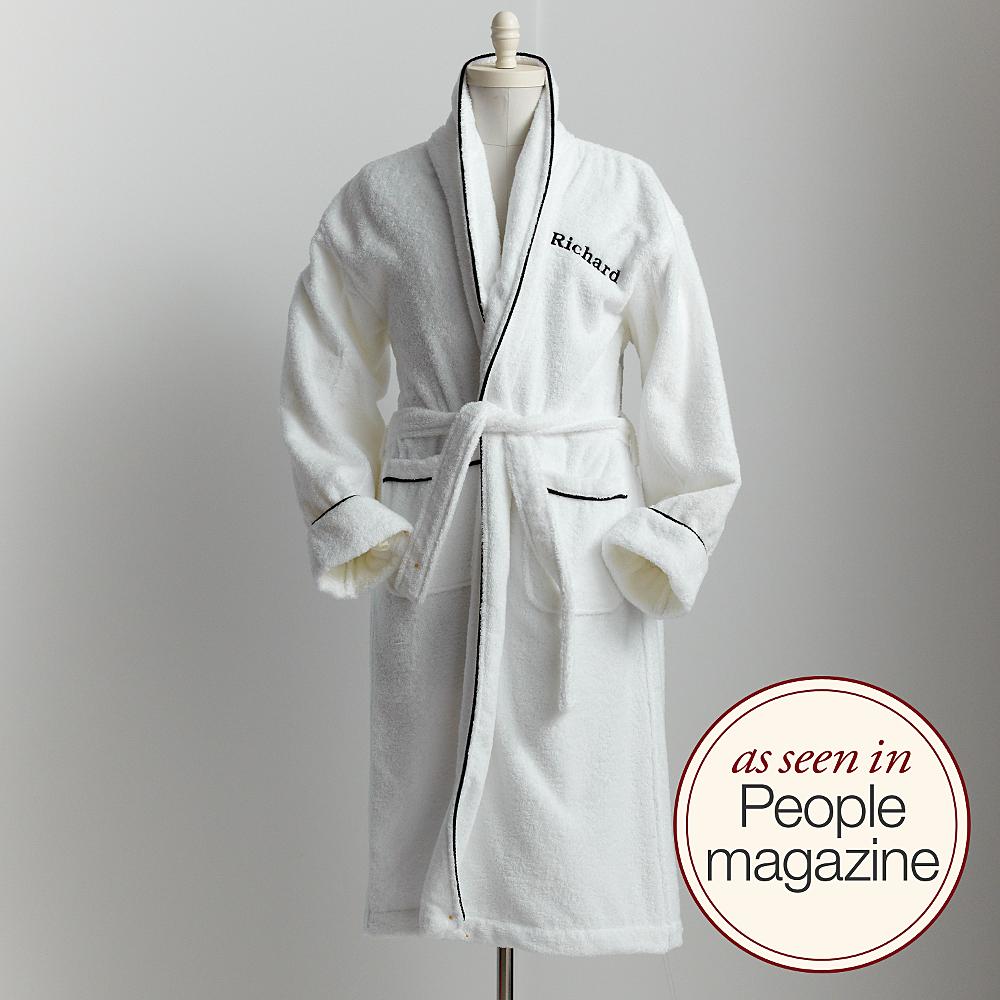 Coming to the bedding basics, these bed sheets from Lauren by Ralph Lauren gives a modern and classy look to your bedroom. Its white plaid and navy blue hem is a beauty to simply mention! Great wedding day gift to the couple for their new home.
And the cook ware delights.
A Multipurpose Revol Revolution Round Cocotte with Lid which can be used anywhere, be it the induction cook top or ovens(both conventional/microwave) with a trendy look.This ceramic cook ware which is thermal shock resistant is one of its kind.
Hope you get the idea well.